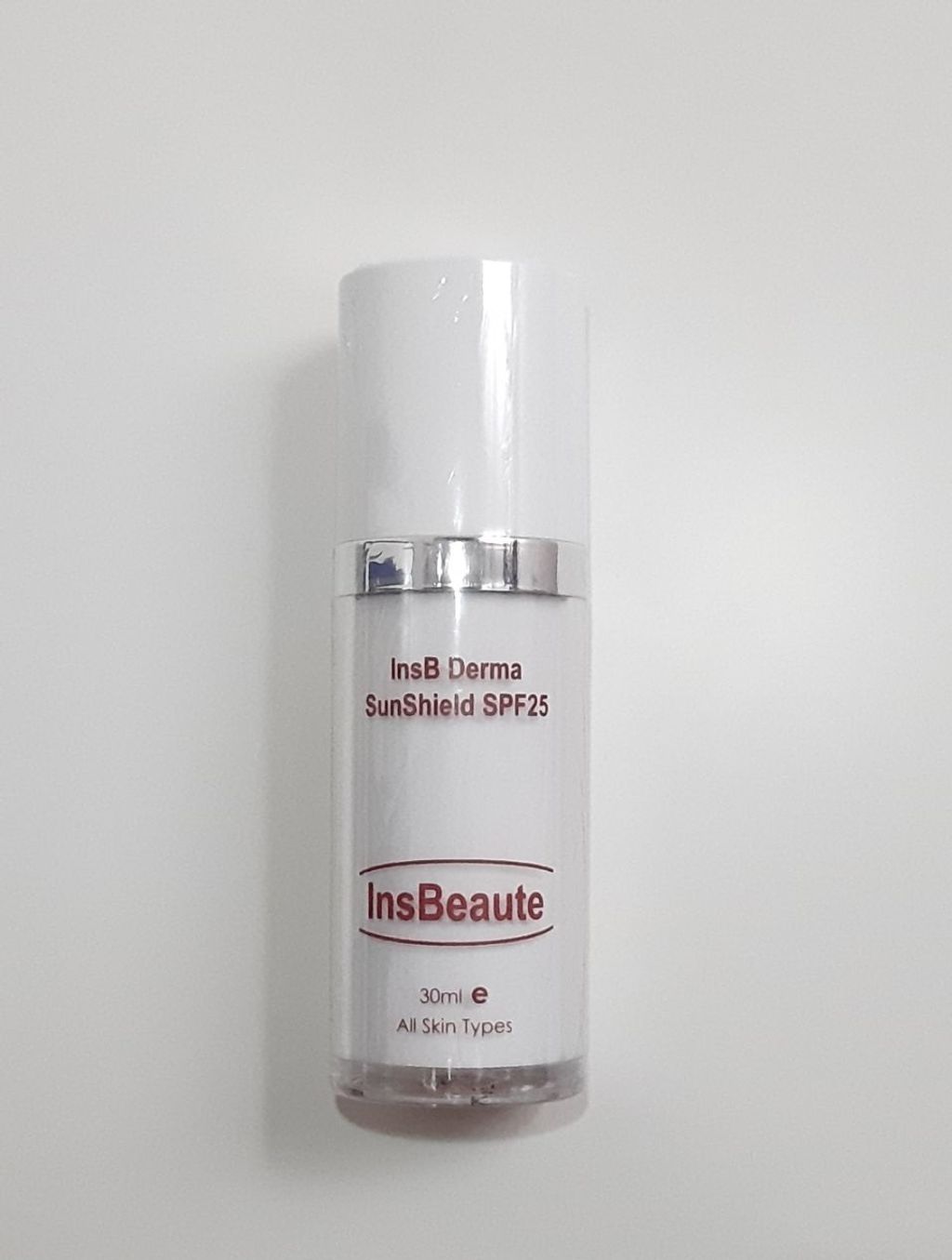 Best Selling
InsB Derma Sunshield SPF25 30ml
Product Description
Product Description
SunShield SPF 25 (Day Moisturisers and Protection)
SunShield with SPF25 is a light-weight long-lasting cream with dual UV-protection function protecting the skin against harmful UV pollution, free radical and photodamage in resulting to cause of premature aging, pigmentation and wrinkles which is the primary cause of aging.
SunShield with SPF25 for everyday moisturisers and protection, ideal as a makeup base or primer that layered under makeup use as daily skincare routine, guarding against daily environmental aggressors. Promotes the natural beauty of skin by protecting against the three majors cause of skin cell damage – UV rays, oxidation and free radical and helps the natural skin tone appear more even and maintaining a healthier skin.
Direction
Direction
For Daily use - SunShield SPF 25 (Day Moisturisers/Protection Cream)
Use After using OxyMist (Preparation Lotion or Toner) then apply a thin layer of SunShield SPF25, spread evenly all over the entire face.
Use as Day Protection after OxyMist, Serum and Essence. Can be used as a base cream before Foundation and Loose powder.
Size
Size
30ml
3.7cm (wide) x 3.7cm (base) x 12.2 cm (height)
Weight: 0.115g
Manufactured in Singapore
Active Ingredient
Active Ingredient
Squalane Oil
Ubiquinone (Coenzyme Q10)
Titanium Dioxide
Benzophenone 3
Octyl Methoxy Cinnamate
Dimethicone
Squalane oil (from olives)
Squalane Oil (from olives) is a natural lipid that lubricates and protects the skin. As an emollient and highly effective antioxidant, Squalane locks in moisture, eases dry patches and fights inflammation + free radicals.
Ubiquinone (Coenzyme Q10)
As skin matures, it may become thinner and begin to sag. Fortunately, several skin care products may reverse some of the signs of aging skin. Ubiquinone, also referred to as Coenzyme Q10, or simply Q10, is a nutrient that's produced naturally in the body.
This naturally occurring antioxidant decreases as we age, so it is often used in anti-aging skincare products. A free radical neutralizer, ubiquinone protects against damage caused by UV rays, pollution, toxins, and stress.
Collagen and Elastin
Helps with firming and smoothing of skin
Reduce fine lines and wrinkles
Improves damage caused by oxidation
Other ingredients
Titanium Dioxide: It protects skin from UVA and UVB.
Benzophenone 3 : Sunscreen agent that protects primarily from the Sun`s UVB rays and some but not all for UVA rays.
Octyl Methoxy Cinnamate: Sunscreen agent used to protect skin primarily from the sun`s UVB rays.
Dimethicone: Dehydration and hydration effect.
Shipping Policy
Shipping Policy
Free shipping is only provided for single order that is above S$180
Please note that shipping will only be processed after completion of payment via bank transfer or PayNow
Shipping arrangement require 3-5 days.
Self-collection
For self-collection, please kindly send an email to insbeaute@outlook.com
We would provide you with more information on how to proceed
Payment
Payment
Payment to InsBeaute D'Esthetique via Bank Transfer or PayNow after submitting in your order
Please use the account information below to make your payment
Account Name: INSBEAUTE D'ESTHETIQUE
Bank Name: OCBC Limited
PayNow UEN: 46563400A
PayNow Code
After making payment, please send a screenshot of successful bank transfer record / successful notification to: insbeaute@outlook.com
OR forward your successful fund transfer SMS notification from your bank / screenshot via whatsapp or sms to 86843928
Upon completion of payment, we will send you an email or message notification to confirm receipt of payment and will ship out your order. Orders without payment will unfortunately not be processed.